Case study of alteration in the cardia due to hyperacidity.
Thirty-year-old male. We took photos of his iris for the first time in 2009. At that time, we could already see an "Alteration in the collarette" in the Topographic Area (TA) of the cardia.
In this case, we have found that, with the passing of the years, new "Pigmentation" has developed in the collarette of the iris in the same TA as the cardia, revealing continued damage to this zone due to gastric hyperacidity. In cases of gastric hyperacidity, it is more common to find us "stroma turbidity" or a "white strip" parallel to the collarette.
We can find the cardia TA between 174 and 181° in crowns 3 and 4 of the left iris.
You can find it on page 306 of the book "Principios y fundamentos de la Iridología de Reflejo Multiple".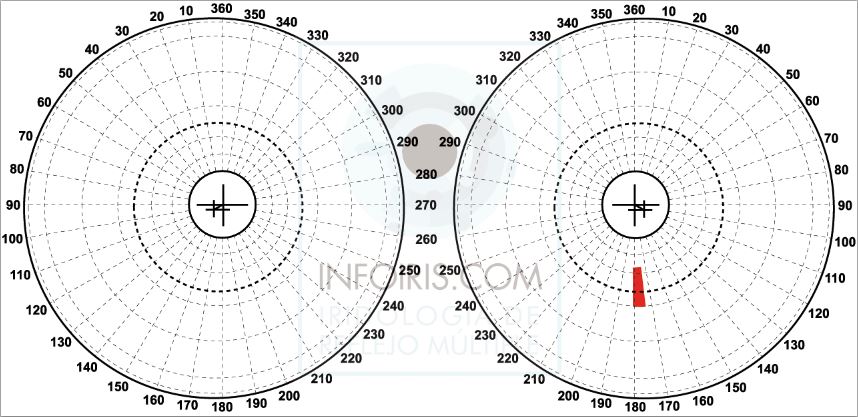 Here we have the photos of the left iris taken in 2009 and 2015. Inside the red rectangle, we can observe how a totally new "pigmentation" has appeared on the collarette of the iris, specifically in the cardia TA. Next, we see an enlarged image so that we can more clearly see the difference.
Despite being a young person, and although six years have elapsed, the growth of this "pigmentation" with these characteristics is indicative of heavy damage to this zone, making it necessary to make changes in his dietary habits and to gradual adapt treatments that enable strengthening those tissues and reducing the damage caused by the gastric juices.
This case study is very educational, not only because it is an example of alteration in the cardia, but also because it is, at the same time, another example of how changes in the iris do indeed occur. We have the 2009 photograph in which, inside the box marked, there was no indication of "pigmentation" and the 2015 photo in which it is abundantly clear how it has developed. It is one more example of how new signs may appear on the surface of the iris.
(The rest of the image of the iris and its interpretation is reserved for courses and study materials that we will gradually publish.)
© Multiple Reflex iridology. All rights reserved. © Javier Echavarren Otín. 2017